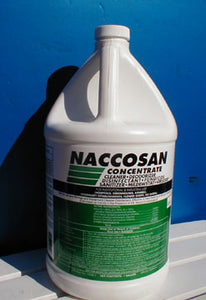 Cross contamination is of major concern in institutions and industrial areas such as hospitals, schools, greenhouses, kennels, veterinary establishments, flower shops, pet shops, food storage buildings and farms. Naccosan is a one-step disinfectant cleaner that when used as directed is effective against a broad spectrum of bacteria, is virucidal, fungicidal and will prevent the growth of mold mildew and their odors.

Common diseases controlled, suppressed or prevented: Pseudomonas, Staphyloccus, Salmonella, Escherichia, Streptococcus, Klebsiella, Shigella and more.
One gallon jug.

Rates and combinations: 1 tablespoon per gallon of water.