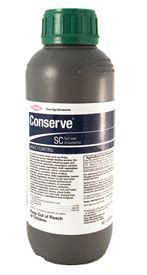 Label / MSDS

Conserve SC is a fermentation-derived insect control agent containing 11.6% active ingredient Spinosyn A & D. Due to its unique mode of action, Conserve SC can be used in resistance management programs in rotation with other classes of insecticides. Conserve SC does not significantly impact the natural predaceous insect complexes including ladybird beetles, lacewings, minute pirate bugs, and predatory mites. The feeding activities of these predatory beneficials will aid in extending natural control of other insect pests.

Common Rose Pests Controlled:
Tent Caterpillar, Sawflies, Midges, Mites & Thrips

Other Uses:
Conserve SC is a very effective insecticide for turf pests such as armyworms, sod web worms, and cutworms.

Rate & Combination:
.06 to .2 fl ozs. per gallon of water.