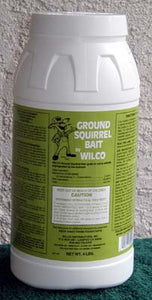 Label / MSDS
Locate and secure bait stations at 20 to 100 foot intervals, and near active burrows. Maintain an uninterrupted supply of bait in these stations for at least 15 days or until signs of feeding by ground squirrels ceases. Check bait stations frequently to insure there is a constant supply of fresh bait. The inert ingredients of this bait are cracked corn, corn meal, cottonseed meal and almonds which are highly palatable to ground squirrels. They are pelletized into large pellets to encourage squirrels to eat-not store bait and no pre-baiting is required. The active ingredient is Diphacinone which is a anti-coagulant reducing the possibility of secondary and nontarget poisoning.

Pests controlled: ground squirrels

Rates and combinations: 2 to 4 lbs. Must be used in tamper resistant bait stations.

NOTE: THE WILCO GROUND SQUIRREL BAIT CAN BE SOLD IN CA, ID, NV, OR, UT, & WA.
The 20 lbs. and the 40 lbs. are a Restricted Use material and requires a RU permit or a Certified Commercial or Private Applicators license to be purchased.